Industry Leaders, Diverse, Exacting, Satisfied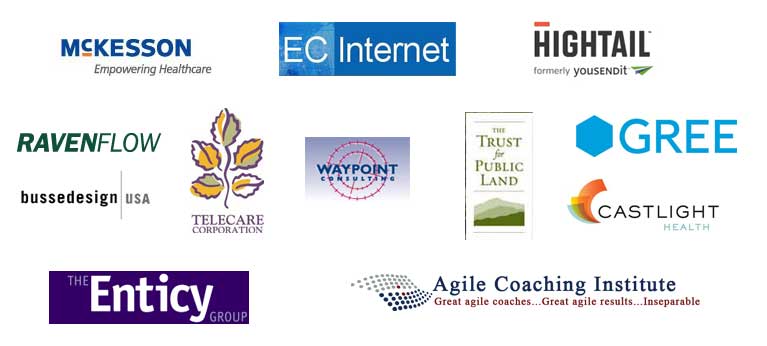 Here are just a few examples of how we've helped our clients. What can we do for YOU?
Hightail
Hightail (previously YouSendIt) offers cloud-based file sharing and storage capabilities to more than 40 million users across 193 countries and 98% of the Fortune 500. Outformations guided Hightail through a complete enterprise Agile transformation, including executive coaching and Agile training and coaching for 12 Agile teams.
Agile Coaching Institute
The Agile Coaching Institute provides training, coaching, and mentoring to Agile Coaches who want to become truly effective agents of transformation. David Chilcott from Outformations was a key contributor to the design of the The Agile Facilitator training and is a leader for both The Agile Facilitator and the popular Coaching Agile Teams training.
ClickStream Technologies
Clickstream Technologies (now part of Microsoft) provides a patented data-collection technology which creates a clear picture of end-user application use. Ouformations designed an end-to-end business intelligence solution to manage, analyze and report against ClickStream's massive data loads, and provided branded web based reporting for their customers.
FamilyGiving Tree
The Family Giving Tree helps thousands of low-income people get warm clothing, bedding, household supplies, and gear for kids. Outformations provided a web based system to help gather and process the holiday wishes of tens of thousands of needy children.
McKesson
McKesson is a leading healthcare services company providing pharmaceuticals, medical supplies, and technologies that make healthcare safer while reducing costs. Outformations built and maintained a suite of enterprise applications to support their Oncology Physician and Hospital Practices, including oncology pharmaceutical purchases, medical regimen details, clinical guidelines and a corporate website.
Ravenflow
Ravenflow's Requirements Authoring and Validation Environment helps businesses develop and validate business software requirements by automatically generating visual models from plain English. Their tools provide immediate visual feedback on use cases, allowing immediate error correction during the authoring process. Outformations provided Ravenflow with senior technology consultants as they ramped up their internal development team, and helped them evolve their proprietary technology from prototype to product.
Trust for Public Land
The Trust for Public Land (TPL) is a national, nonprofit, land conservation organization that conserves land for people to enjoy as parks, community gardens, historic sites, rural lands, and other natural places, ensuring livable communities for generations to come. We've helped TPL for years, building and maintaining desktop and web applications to support their mission critical financial, land project management and enterprise wide intranet systems.